School's Out! High Five for Half Term!
Just a week to go before Half Term will be upon us all! As ever, the Country Child Calendar of Events is packed full of fun activities going on across the counties…
But, in the meantime, here are some Half Term events, which we think you may just like to know about…
A spooky start to Half Term?
For those of you partial to the odd spooky tale, why not make your way to the Larmer Tree Gardens on Friday, February 15th for an evening of Ghost Stories by Candlelight;
The Nunkie Theatre Company are returning for a second year running to bring a seasonal shiver to the West Country. This critically acclaimed one-man show features the wondrous Robert Lloyd Parry as M. R. James, the master of the English ghost story, in an atmospheric retelling of two great tales.

Every Christmas, Montague Rhodes James, an eminent medieval scholar, would write and perform new tales to entertain friends in his rooms in King's College, Cambridge. Over a century later, the stories by M. R. James thrill, terrify and amuse as powerfully today as they ever did. Robert Lloyd Parry's resemblance to James has left many an audience member dumbfounded, and he recreates James' entertainments in a truly atmospheric way, illuminated by candlelight and underscored by dread.
Doors 6.30pm
Show starts 7.30pm
Suitable for ages 13+
TICKETS
£14 in advance and £16 on the door
Buy online:
https://www.larmertree.co.uk/
Buy in person or by phone:
Rushmore Estate Office, Tollard Royal, 01725 516971
Shaftesbury Tourist Information Centre, 01747 853514
Michelle Hilborne (promoter), 01747 812084
Is there a budding archaeologist in the family? If the answer is 'yes' then a trip to Stonehenge this Half Term might be just the ticket!
Get digging as a junior archaeologist at Stonehenge this February half term and see what you find in the outdoor excavation trench.
Children will get the chance to come face to face with prehistoric people – the facial reconstruction experts will be on hand to show you how to use archaeological evidence to find out what people might have looked like thousands of years ago.
This drop-in workshop is free for Stonehenge ticket holders. The excavation trench is undercover but outside so please wrap up warm. The facial reconstruction activity will take place in the gallery in the Visitor Centre. Children are welcome to try both activities.
HAMPSHIRE:
Car Lovers, this one's for you…
For budding car enthusiasts and inventors alike, look no further than Beaulieu museum this February Half Term. Visitors are being invited to follow in the footsteps of Chitty Bang Bang's on-screen creator Caractacus Potts and dream up their own magical inventions. From building balloon cars to learning how to make a medieval arch, there's something to keep everyone hooked!
If you're contemplating a family trip to the theatre, then the Theatre Royal in Winchester is the place to go. Yes, fasten your seat belts, set your ray guns to stun and get ready for a cosmic adventure of meteoric proportions as award-winning ENCORE Youth Theatre present Return to the Forbidden Planet by Bob Carlton.
Bob Carlton's Olivier Award-winning (Best Musical, 1990) West End musical takes the 1956 film, borrows its plot from Shakespeare's The Tempest, raids the Bard's other plays at will and sets everything to a score of some of the greatest pop hits from the 1960s and 70s. Amazing!
Bursting with red hot rock & roll hits, including Great Balls of Fire, Good Vibrations, Teenager in Love and The Young Ones.
https://www.theatreroyalwinchester.co.uk/
Dorset:
As daylight fades this half term, Poole will provide a dramatic backdrop to series of interactive digital Light Art installations designed to inspire, delight and enchant residents & visitors. Both emerging and International artists will showcase their ground-breaking work in a celebration of Poole's cultural diversity, rich heritage and unique location in partnership with leading cultural organisations - the results will be electrifying for sure. https://lightuppoole.co.uk/
Fossil Hunt, Lulworth Cove
If you know where and what to look for on Dorset's beaches, you've a good chance of finding a fossil. This hour long fossil hunting session begins with a short talk on the fossils of Lulworth. You will then walk down to the beach and begin the fossil hunt. You will find evidence of animal from life millions of years ago, all within a short walk of the Visitor Centre.
£5 Adults, £2.50. 16 and under. Accessibility: Approximately a 1.5 mile walk on a shingle beach. Not suitable for wheelchairs. Please Bring: A stout pair of boots or wellies. Please phone for meeting time as it is dependent on the tide!
Booking necessary
Website: Visit website
E-mail: rangers@lulworth.com
Telephone: 01929 400155
Somerset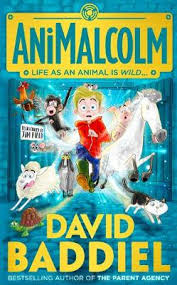 Those spending time in Somerset this half term should strongly consider a trip to David Badiel's show, Animalcolm….
A vibrant, energetic and gloriously funny musical from the award-winning Story Pocket Theatre. ANiMALCOLM combines physical theatre, puppetry and the company's outstanding storytelling style to bring David Baddiel's magical and wonderfully comic story to the stage.
Malcolm doesn't like animals, which is a problem because his family love them, in fact, they're wild about them. Their house is full of pets of all shapes and sizes, but what it's NOT full of is stuff Malcolm likes. Such as the laptop he wanted for his birthday.
The only bright spot on the horizon is the Year Six school trip, which Malcolm never thought his parents would pay for. And yet there he is, on the bus, heading to……a farm.
What follows is a school trip like no other, where Malcolm begins to understand animals more deeply than anyone. But will he end up the same as before? Because sometimes the hardest thing to become is yourself.
Saturday 16 February 2019 11.30am-1.30pm
Saturday 16 February 2019 3pm-5pm
Tickets: £16, £12.50 Under 16, £54 Family
http://storypockettheatre.co.uk/dates.html
Dunster Castle – Under The Sheets
Children (and adults alike!) are mesmerised by castles! The mystery, intrigue and blood-curdling stories of bygone days fascinate young minds and stir imaginations.
Why not take a trip to the wonderful Dunster Caslte for day of exploration. Opening for the first time in February the winter clean will be in full swing. See the castle as never before, peek beneath a sheet, see the team up high and learn what it takes to care for the collection.
https://www.nationaltrust.org.uk/events/128d431e-c9d7-44fb-ba67-1bb8d6beed5f/pages/details