Summer Reads for your kids - Country Child have got it covered....
Are you children on the hunt for their next summer read? As a parent, are you looking for suitable suggestions for your bookish offspring? Well, you've come to the right place. We've spoken with those in the know, we've listened to the youngsters and, as a result, we've got some brilliant books to recommend to the readers of Country Child. We hope you find something that floats your children's boats….
Here's to a summer of reading!!
" I can't wait to read this. David Walliams is my favourite author at the moment and my friends have told me this is amazing." Daisy aged 9
Ages 7-12
Millions of young readers have loved the World's Worst Children tales – now they will revel in this delightfully dreadful collection of the most gruesome grown-ups ever: The World's Worst Teachers. From the phenomenally bestselling David Walliams and illustrated in glorious colour by the artistic genius, Tony Ross.
Think your teachers are bad? Wait till you meet this lot. These ten tales of the world's most splendidly sinister teachers will have you running for the school gates.

"My Granny bought me this book at Easter. I like the pictures and the happy ending for Norman" Max aged 4
AGES 2-6
Norman is a slug who longs to be a snail—if only he could find the perfect shell! He tries a tennis ball, an apple, and even an alarm clock but none of them feels quite right. Until one day, Norman stumbles upon a doughnut! What could be better than that? But is that sweet shell really the perfect fit?
'I read this to my 9 year old daughter recently. We both absolutely loved it. Such a beautifully written book. We were both in tears at the end. I thoroughly recommend you read it - adults and children alike" Sandra, mum to Katie.
AGES 9-12
A lyrical and moving tale of a young boy growing up in Africa, and his lifelong friendship with a white lion.
"All my life I'll think of you, I promise I will. I won't ever forget you."
Bertie rescues an orphaned white lion cub from the African veld. They are inseparable until Bertie is sent to boarding school far away in England and the lion is sold to a circus. Bertie swears that one day they will see one another again, but it is the butterfly lion which ensures that their friendship will never be forgotten.
AGES 7-10
This exploration of animals that we have lost over the past century, from the California grizzly to the Persian tiger, aims to create awareness and inspire children to act responsibly toward their environment.
"I remember my mum reading this to me when I was a child - and really enjoying the story. So, I bought a second hand copy on eBay to see if my boys, aged 6 and 9 would enjoy it too. They loved it. it's never been so easy getting them into bed each night!" Miranda, mum to Harry and George.


"I've read nearly all of the Roald Dahl books but this one is my favourite. If you're doing the summer reading challenge then this should be on your list." Charlie, aged 10
AGES 7-10
James Henry Trotter lives with two ghastly hags. Aunt Sponge is enormously fat with a face that looks boiled and Aunt Spiker is bony and screeching. He's very lonely until one day something peculiar happens. At the end of the garden a peach starts to grow and GROW AND GROW. Inside that peach are seven very unusual insects - all waiting to take James on a magical adventure. But where will they go in their GIANT PEACH and what will happen to the horrible aunts if they stand in their way? There's only one way to find out...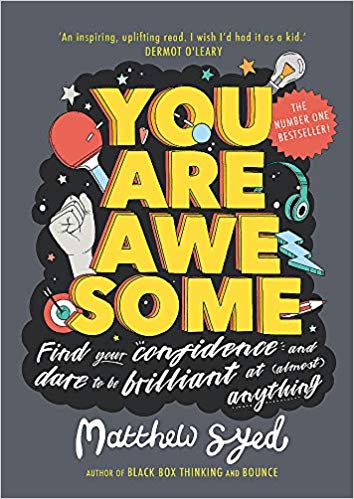 "My dad bought me this to read before my guitar exam because I was feeling really nervous and doubting myself. It was a really good read and it really helped me to have some belief in my abilities. And I passed my exam!" Theo aged 9
AGES 7-10

Matthew Syed is one of the world's most influential thinkers in the field of high performance in the context of a complex and fast-changing world.

He draws on a vast array of case studies and real-world examples across sport, business, education and politics. Matthew looks at the inside story of how success really happens – and how we cannot grow unless we are prepared to learn from our mistakes. In his latest book, You Are Awesome, Matthew distils the principles of growth mindset, resilience and adaptability in his other books for a younger audience.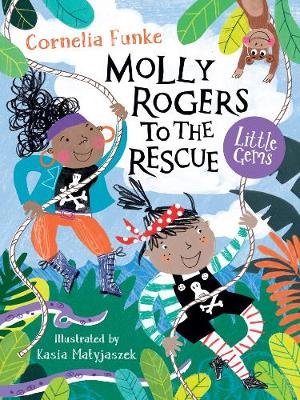 "Because when i grow up I want to be Molly" Lily aged 5
Pirates ahoy! This is a lively, swashbuckling story with great characters and a pacey story – all vibrantly illustrated in an attractive and easy-to-read, small size book. Barbarous Bertha is a fearsome pirate as well as the guardian of a wide stretch of emerald green sea and the Purple Shell Islands which are home to both people and special animals and birds. It is no surprise therefore that her daughter Molly Rogers is never going to stand for anyone who threatens to invade the islands or destroy their inhabitants.
AGES 5+
Best-selling author and illustrator Judith Kerr tells a wonderfully warm and funny story about the very many things that go wrong when Tommy's little sister Angie brings home the school rabbit. Snowflake is the star attraction in Angie's class: he is at the centre of every subject in the curriculum and Angie adores him. But Tommy does not. (And he doesn't adore Angie very much either…) Tommy recounts the terrible things that go wrong when Snowflake is in the house starting with him peeing on the trouser leg of a visiting famous actor. As far as Tommy is concerned it would be much best if Snowflake went back to school.
"The BEST books I have ever read. You have to read them, you just have to!!!" Ocscar aged 10
AGES 7-700
J.K. Rowling is the author of the record-breaking, multi-award-winning Harry Potter novels. Loved by fans around the world, the series has sold more than 500 million copies, been translated into 80 languages and made into eight blockbuster films.
AGES 3+
This classic story of Sophie and her extraordinary tea-time guest has been loved by millions of children since it was first published over 30 years ago. The doorbell rings just as Sophie and her mummy are sitting down to tea. Who could it possibly be? What they certainly don't expect to see at the door is a big furry, stripy tiger!
"I think every bookshelf should have this book - it's just the perfect introduction to our seasons and all of my children love the pictures." Holly, mum of three.
AGES 2 and up
Introduce young readers to the sights and sounds of the year - from summer's sizzling sun to winter's crackling snow. Featuring breathtaking illustrations by internationally renowned illustrator, Alison Jay, this book will open your child's eyes and ears to the world around them!
Here are some other brilliant books we've either read/want to read/have been recommended…..
The Amazing Story of Adolphus Tips - Michael Morpurgo
The 13-Storey Treehouse - Andy Griffiths
Charlotte's Web - E B White
Giraffes Can't Dance - Giles Andreae
I Don't Want Curly Hair - Laura Ellen Anderson
Fing - David Walliams (and all of his other books!)
The Twits - Roald Dahl (and all of his other books!!)
The Northern Lights - Philip Pullman
The Cat in the Hat - Dr Seuss
Pete the Cat's Groovy Guide to Life - Kimberly and James Dean
How Rocket Learned to Read - Tad Hills
Guiness World Records 2019
How to Train your Parents - Pete Johnson
Diary of a Wimpy Kid - Jeff Kinney
When Hitler Stole Pink Rabbit - Judith Kerr
Balck Beauty - Anna Sewell
The Boy at the Back of the Class - Onjali Rauf
The Girl of Ink and Stars - Kiran Millwood Hargrave
Goodnight Stories for Rebel Girls - Elena Favilli
Mummy Fairy and Me - Sophie Kinsella
Esther's Invisible Grandma - Hanne Bonczoszek